Original article in Dutch. Translated to English by Vanessa Ntinu.
The district is back on the national political agenda. And we are happy about that, after almost 10 years without it. Fortunately, in the time before that and in some places where it has been pursued, we have learned a lot about what works. We do not have to reinvent the wheel everywhere. These insights have been compiled in the 'Manifesto for a successful Neighbourhood Approach'. A good guideline for the soon-to-be-elected municipal councils and newly appointed colleges. But certainly also an inspiration for a government programme for liveability and safety in neighbourhoods.
In this Manifesto, we advocate a neighbourhood approach by and with the neighbourhood. The knowledge and experience of residents are leading! Let it happen in the neighbourhoods and no longer rely solely on national or local policy documents. Offer space to connect separate funds (from different ministries) that go to municipalities and neighbourhoods. And do not let outsiders implement the district approach. Choose the district approach of and with the district! It contributes just as much to all kinds of national policy goals, without being imposed in a controlled manner. We are convinced that this will give every resident access to an improved perspective. And that the results and effects achieved will be sustainable. And, of course, we need professionals. As far as we are concerned, the deployment of professionals is maximally supportive and serves policy. Room to experiment and a learning approach are catalytic components of a successful district approach.
Manifesto at a glance
Residents and their knowledge of the experience are leading
Work in an appreciative and inviting way
Pay attention to what goes well in neighbourhoods
Start from equality
Make use of what is already there
A long breath
Go for the long haul
Organise reliability and consistency
Ensure continuity in implementation
Enabling
Give professionals in the district the space to do their work
Experiment with new opportunities for accountability
Het Manifest/ The Manifesto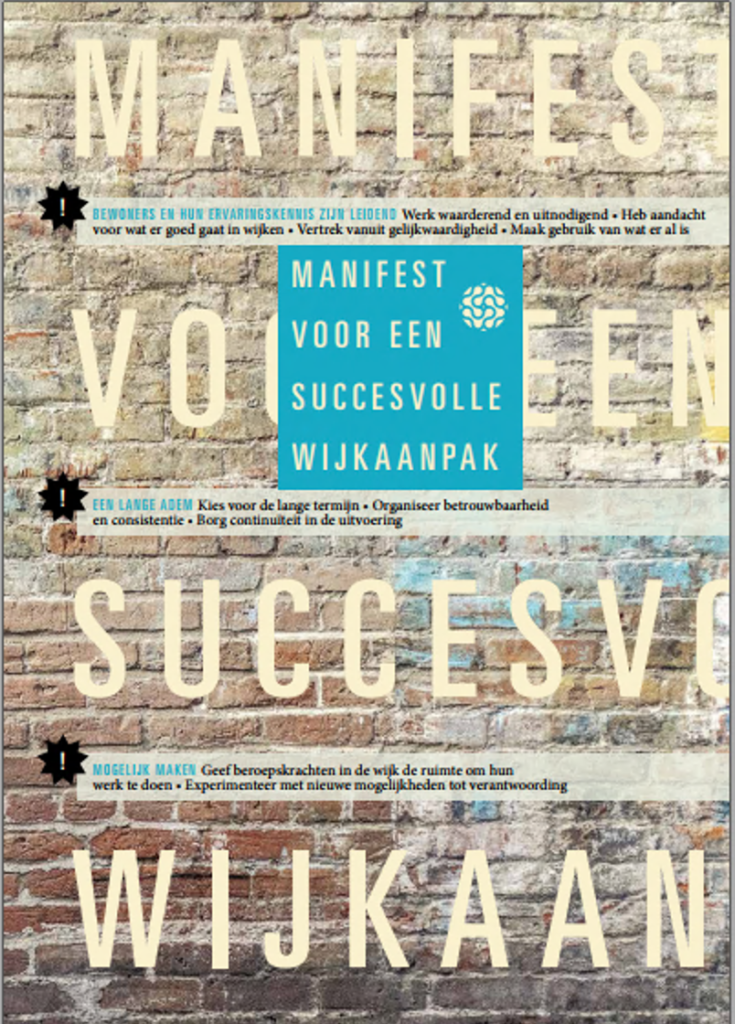 Het Manifest is there for you. Whether you are an active neighbourhood resident, a municipal official, a community worker or a housing association worker, a politician or an administrator. Together we must set to work to make the new neighbourhood approach a success. You can make a start by sharing the manifesto in your network!  Start with the new council and the new municipal executive in your municipality. With your neighbours and the organisations in your neighbourhood. We have a digital version and a print version that you can print out yourself.
The makers of Het Manifest
Within the Wijkwijzer platform, the LPB and LSA took the initiative to draw up this manifesto. We asked an editorial team* of experts to do the actual research and writing. The manifesto came about through several exploratory and in-depth discussions within the editorial team, during three digital sessions with more than 75 administrators, policymakers, professionals and active residents, and a session with young people from Utrecht.
* The editorial team consists of:
Bouchra Dibi (advisor and researcher Krachtwijken), Reinout Kleinhans (senior lecturer Urban Renewal, TU Delft), Matthijs Uyterlinde (senior researcher Verwey-Jonker Institute) and Eelco Visser (think and do network Naar daar), with support from LPB and LSA residents.