In this episode, we speak with Mandy Koenraads (LDE GMD Centre/Leiden University) about her work in the DHZW thesis hub, why such an initiative is crucial for both students and societies, and where she sees this initiative heading in the future. 
By Vanessa Ntinu
Thanks for sitting down with me today, Mandy! Tell us a little about yourself and about your work in the 'DHZW initiative'.
Oh wow, what a big first question!
Well, I have been working as the Coordinator of the Den Haag Zuidwest (DHZW) initiative for a little over a year now. I think it is an incredibly dynamic job to have as I can move between the three universities that are part of our alliance. Beyond this, I can have a hands-on role in my interaction with different stakeholders within the neighborhood. The role allows me to facilitate this bridging between academia and policymaking. Often, universities are perceived as "unreachable" or inaccessible, in this role I hope to dismantle this stereotype and bring universities and societies closer together for a mutually beneficial relationship.
The Hague Southwest (Den Haag Zuidwest) area is incredibly popular now, both within the media and in the respective municipalities. I, therefore, think it is good that the universities are becoming more involved in the neighborhood and positioning themselves as viable allies as opposed to this unreachable academic entity.
Why is something like the DHZW initiative so crucial - for both students and societies?
Well, I think for the students there are multiple benefits. For one, this initiative allows them to work on 'real problems' as opposed to fictional case studies. We allow our students to use their knowledge and skill set on real-life challenges that are ever pressing. Another angle students benefit from is that the initiative allows them to work on challenges specific to their disciplines. For example, TU Delft students can tackle challenges with a technical lens, and the same for Leiden students. The students are also able to learn from each other and from their different disciplines. Overall, students appreciate that their work - be it coursework or the actual thesis - can be translated into, for example, actual policy or other concepts. Often, we see a thesis ending up in a drawer or an archive that is never revisited, but in this instance, students can go "wow, my work is doing something for this neighborhood or stakeholder"! The DHZW initiative allows students to go further and immerses them within a community and neighborhood they not only research but can also learn from. The initiative gives them a first glance into the "working world" as its practical and hands-on nature allows our students to develop tangible skills, such as translating research to different audiences or speaking to a host of different stakeholders, that can be applied in a 'real job'.
For societies, the initiative brings them a lot of knowledge that is often not as accessible. For example, if you look at housing corporations, place-making is a popular topic, but there is a lack of a solid foundation. The students are therefore able to bring this type of theoretical knowledge to such corporations. I also believe such corporations appreciate students' opinions because they feel like students are creative and think outside the box when it comes to tackling challenges. Further to this, such corporations may also feel more comfortable declining or contesting a student's input as opposed to say - a more established research center. Finally, the initiative also acts as a recruitment pool for a lot of these stakeholders. For example, the different municipalities and corporations can interact with students they could potentially hire once they graduate.
Often, we see a thesis ending up in a drawer or an archive that is never revisited, but in this instance, students can go "wow, my work is doing something for this neighborhood or stakeholder"!
How has the initiative developed since you joined? What are some hurdles/milestones you have overcome/overseen?
I think the strength of this initiative is that we went in very open-mindedly. All parties - be it, students, universities, municipalities, or housing corporations - were committed to working together in a way that everyone gains something. Further to this, the initiative has adopted a flexible approach and we've refused to stick too much to a specific blueprint - if an opportunity arises, we are flexible about it and try to see in which ways it can best work. For example, this is a thesis hub, but last year we were presented with several challenges from our stakeholders that we thought would be better suited for a course. With this flexibility, we're able to take up all these challenges but allocate them in a way that is feasible and can provide the best outcome.
In terms of hurdles, I think it is very important to manage expectations - on all ends - within this initiative. You are often working with stakeholders, and you cannot promise them results. You can promise them effort but not a 100% guarantee that their challenges will be tackled. A second potential hurdle is translating academic language and work into practice. There are a lot of parties to take into consideration and therefore language needs to be accessible. Another hurdle has been collaborating with three very different universities. Often, universities have their own policies on thesis writing or research preparation and timelines that may clash with another university or with what the initiative or stakeholders require. A challenge has been trying to coordinate these different entities and their policies in ways that the student is still provided with a conducive environment to work in.
What are some insights you have gained from overseeing students trying to tackle the practical challenges that arise from this neighborhood?
I think a major insight for me with working within the Hague Southwest neighborhood are the ethical questions and issues that you need to take into consideration. For example, you realize there are certain topics and challenges that are far too complex and sensitive - for example, poverty and domestic violence, for students to tackle. We as universities have a responsibility to protect students from topics that could be too psychologically heavy, especially if we are not prepared to offer the necessary aftercare.
I have also noticed that working in the neighborhood has made students incredibly reflective of their position. Working firsthand with families in these neighborhoods has allowed them to understand certain phenomena much better than if they were writing this thesis or collecting their data behind a desk. This experience enhances their perspective as they can understand and sympathize with these communities much better.
What I've learned as a coordinator is that no two days are the same and that everything is an experiment. For example, we now have an exhibition at the library in Bouwlust, something we have never done before but it is proving to be a success. The exhibition has essentially converted the students' work into visual pieces and into five different languages. The library manager contacted me last week and informed me that the exhibition has been received very well.
Overall, I've learned that sometimes experiments work and sometimes they don't, but I guess that's what makes this role so exciting.
How can people (students/practitioners) reach out to DHZW?
Well, those interested can email me at m.r.koenraads@fgga.leidenuniv.nl and we can sit down for a coffee. We don't have a limited number of places, so we are always open to collaborating with those that are interested. Even if we realize that we do not quite fit in with each other this year, there is always the possibility to reconnect next year or in future years.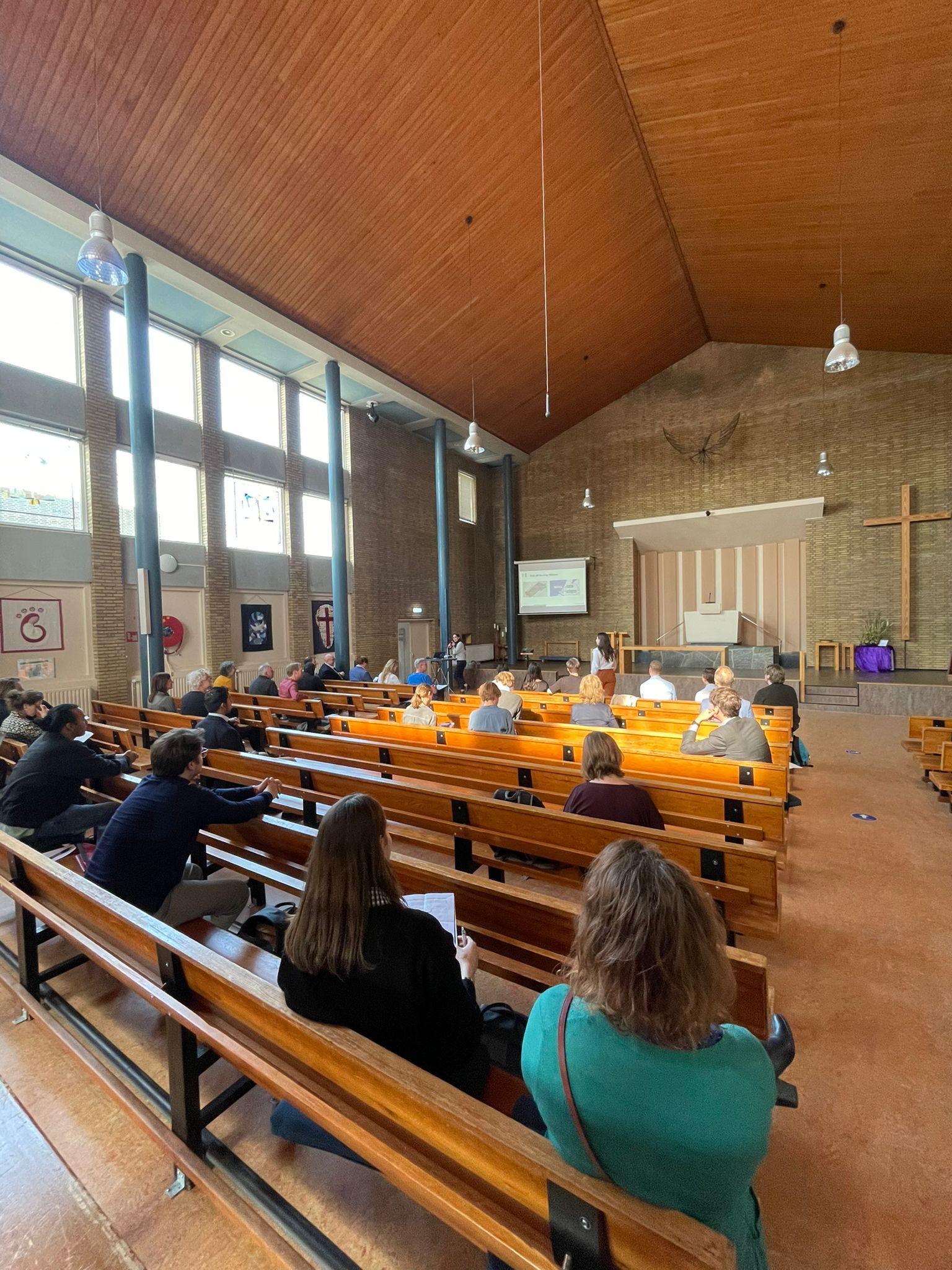 How could such an initiative be improved? How can we as a Centre continue to support you/your work there?
I think we have had a very successful year and I like this question because it makes us think ahead, despite the success. I would say our visibility could improve. We obviously have a webpage on your website and more and more programmes know about us, but this visibility can be enhanced. This would mean having our events and outcomes published on not only the LDE GMD website but also in the different universities, the respective departments, and maybe even the municipality websites. But let us not forget the visibility in The Hague Southwest itself, by publishing in the local newspaper for example. Giving the results back in an accessible way to the community is an important element to further develop. The Centre can use its network to give us a bit more exposure and heighten our visibility. This would also help solidify the DHZW initiative presence in Rotterdam.
What can we expect from DHZW in the future?
Whoa, a big question to finish!
My dream would be for the thesis hub to narrow this bridge between research and practice. A DHZW initiative in the future looks like academics and researchers having an impact on society while simultaneously listening and learning from society itself. In the same vein, it looks like people feeling safe enough to reach out to universities to tackle everyday challenges.