Words by the GMD Student Board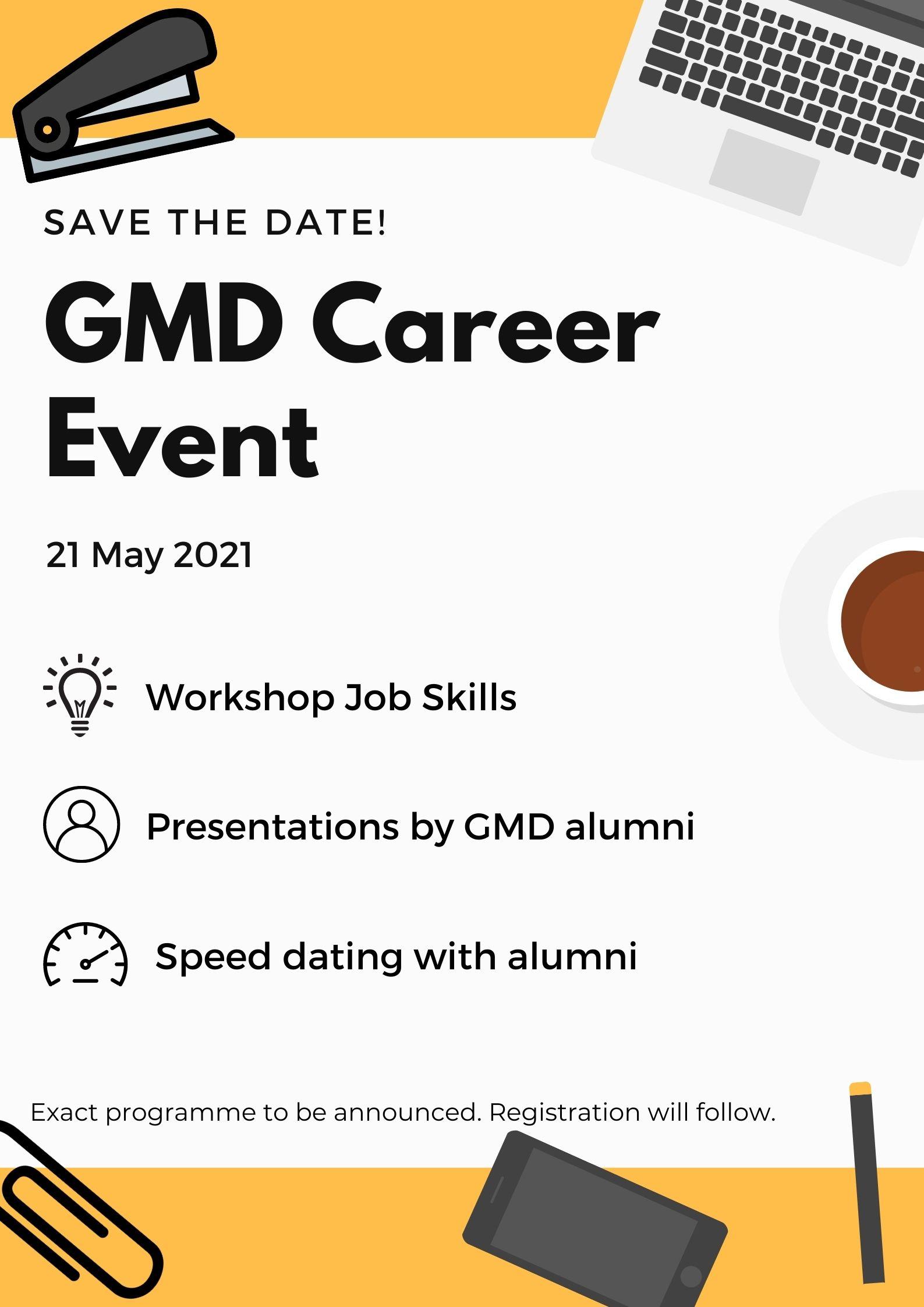 On Friday 21 May 2021, former GMD students met current GMD students for the first annual GMD Career Event. The event included a CV Workshop and speed dating session where alumni provided current students career advice and gave them a better feel of the transition from student to working professional. 

The event started off with a Job Skills Workshop from Atse Fokkens, a Career Advisor from Leiden University. We discussed some do's and don'ts for our CVs, but also how we as students could approach the job market in general. Knowledge, Skills, and Values were highlighted as the three attributes that can give guidance in this journey. Fokkens discussed how it is likely that the perfect job won't be presented to you in the first week after graduation, however, that that is no reason to get discouraged. Fokkens encouraged that students to keep their heads held high and know what they want, then the right offer will definitely cross their path.

GMD Programme coordinator Maria Schiller added to that advice and stated that it is also important to know what you do not want. She gave the seemingly controversial advice to not accept your first job offer. Instead, you should really look for positions that touch your heart and only apply or accept if it is something that you as a starter really want to do.
 
After these motivational words, the alumni Alicja Lelwic (Project Coordinator at Tetra Tech International Development / Social and Economic Integration Lead at the United Nations Major Group for Children and Youth), Mateja Horvath (Program Administrative Specialist at Open Society Foundations), and Emma Labovitz (MA/Ph.D. Candidate at UNC-Chapel Hill - USA) introduced themselves. This led to the kick-off of speed dating. Groups of students moved between different rooms on the online Gather platform to ask the alumni and the career advisor questions. In these speedy sessions, their current jobs were discussed, as were their job hunting strategies and their advice on living and working abroad. Moreover, some motivational and especially reassuring words were shared: it is okay if you do not find the dream job right away, as this is a process that takes time. But the perfect job is certainly out there! 

As the Events Committee from the GMD Student Board, we are very happy to have welcomed the Leiden Career Service, GMD alumni, and of course the participants of the event. We are also thankful for the support of the LDE Centre, particularly for Vanessa's help, in making this event possible.  We hope that everyone who joined feels more comfortable diving into their careers after the summer. We as the Student Board wish everyone the best of luck and a lot of fun during that journey.