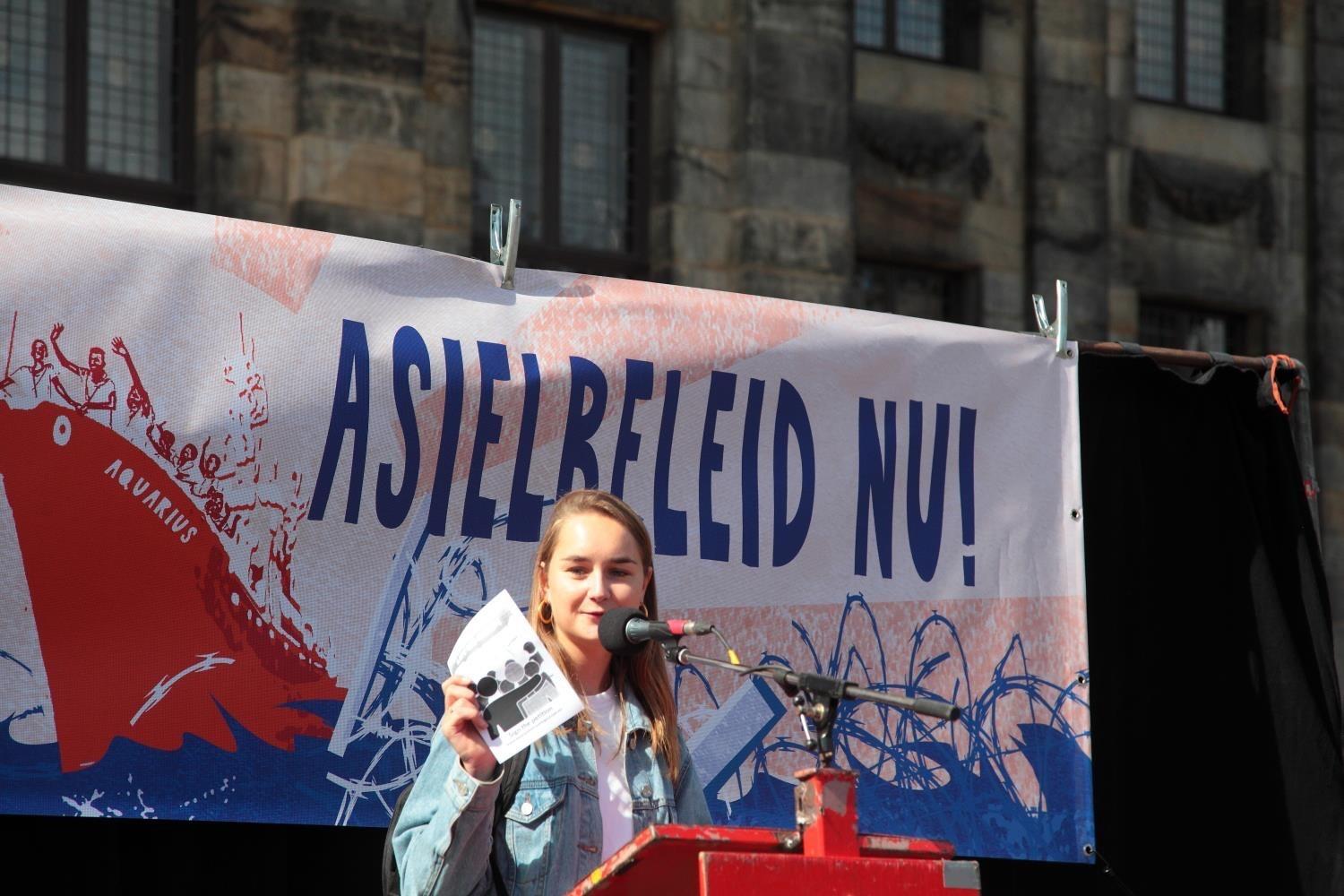 Lilly Brouwer followed the GMD Sociology track and recently graduated cum laude. She has a background in Cultural Anthropology and is currently working on several projects related to social entrepreneurship to create a positive societal impact. In this interview, she reflects on the Master, her thesis research, the effects of Corona, and her future goals.
By Lhamo Meyer
   This achievement confirmed that I made the right decision to study something that I am truly passionate about.
How do you feel about having graduated cum laude?
"I feel very fulfilled and grateful. This achievement confirmed that I made the right decision to pursue a degree in a field I am truly passionate about. I have been lucky enough to have always been encouraged and supported by my family to follow my heart. It also taught me that if you do something that invigorates you, it is easier to commit to it and it was the cherry on the cake that the hard work paid off. I shared the moment with my family, which was special. However, it was a real pity not to have the opportunity to congratulate my peers during an official ceremony and to hear about other students' achievements. I missed the community feeling, which had developed so strongly during the GMD Master."
How did such a community feeling develop during your studies?
"The group was an intimate and very passionate group of motivated students and teachers which resulted in an inspiring class with many insightful discussions. It was a pity that this fell away during Corona. However, at that time, we were just finishing one course at TU Delft and commencing our individual thesis trajectories, so it did not impact our common courses too much.
I very much enjoyed the dynamic setting of the Master with the various site visits and the opportunity to study at universities in different cities. The practical and multidisciplinary aspect of the Master helps you to find comprehensive answers to the complex questions you are dealing with. This degree was undoubtedly quite demanding, time-intensive, and involved a steep learning curve. It was important to set strict personal deadlines to help me optimise my time and in this way, work more efficiently. Meanwhile, it was a comfort to know that fellow students experienced the same trials, so I saw the workload more as a challenge than as a barrier."
What was your thesis topic and how did you conduct your research?
"My research focused on the citizens' initiative called Krachtige Gezinnen (Powerful Families). It was an evaluative case-study analysis on how this initiative attempts to contribute to the resilience of the neighbourhood Bospolder-Tussendijken in Rotterdam. This initiative is part of a larger programme called Resilient BoTu 2028 set up by the municipality and various other parties. The initiative I researched was a noteworthy representation of the diverse neighbourhood, and it was insightful to see how the citizens experienced the process. Following a Theory of Change approach, I looked at the concepts of social networks, sense of community as well as at the collaborations and hierarchies within the broader programme. My research demonstrates that this bottom-up approach has the potential to inspire agency within the community and provide young people with the possibility to develop their talents. It's inclusive approach also possibly contributes to the resilience of the neighbourhood as a whole.
Due to the COVID-19 related measures, my fieldwork was more or less completely cut off, which was a pity as that was something I was looking forward too. As I come from an anthropological background, I acknowledge the value of being physically present, observing, and directly interacting with the people. Fortunately, I had already gathered my respondents with the support of the 'Veldacademie' and could schedule interviews online relatively easily. Moreover, I had participated in one group meeting at the beginning of the year, where I had been able to meet neighbourhood residents and feel the energy of the team members of 'Krachtige Gezinnen'. This helped me to navigate my questions and better understand their particular circumstances. All considering, I was fortunate to be able to conduct my research so thoroughly."
   In the future, I would like to play a role in developing empowering strategies or programmes which create a positive impact and apply the knowledge I gained during my studies.
How does your life after GMD look like?
"Currently, I am involved in several projects related to social entrepreneurship. I am following a training programme at Starters4Communities, where I am learning more about this field and directly applying these skills at a social or sustainable start-up. Additionally, I am analysing and developing a communications strategy for an international microfinance institution. Shortly, I will start to assist in a research project which is related to informal entrepreneurship in Africa at Duke University.
Bigger picture, I am trying to find out where I can contribute the most, further discover my professional strengths and capabilities, and most of all, keep learning. I am working in diverse settings where I can use the insights I gained during the GMD Master, such as how to approach complex issues and how to keep an open mind while thinking critically at the same time. In the future, I would like to play a role in developing empowering strategies or programmes which create a positive impact and apply the knowledge I gained during my studies."
Do you have a message to the GMD students who just started?
"The Master requires diligence, but as I experienced in my GMD cohort, most make a very deliberate decision to follow the GMD Master. In moments of doubt, remind yourself of why you started the GMD journey in the first place. Especially in these challenging times, it is of significance to use the invaluable social support network, learn from the diverse student group, and keep engaging with one another to keep this sense of community alive."